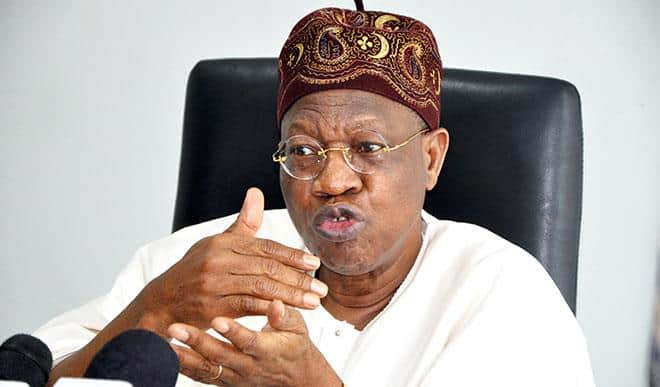 Lai Mohammed Decries Child Malnutrition Across The Globe
The high rate of malnutrition in the country has called for increased investment in nutrition, the minister of culture and information, Lai Mohammed has said.
Mohammed who decried the level of malnutrition among children across Nigeria especially in the northeast, said child malnutrition is a large burden to any country across the world.
The minister who spoke today at a media dialogue on child malnutrition organised by United Nations Children Emergency Fund (UNICEF) in Yola, Adamawa statecapital, therefore said there is need for continued investment in child nutrition to safeguard the nation's future.
Represented by the Head of Child Rights Information Bureau of the Ministry of Information, Olumide Osanyinpeju, the minister also said to address the challenges faced by malnutrition in Nigeria there is need for the creation of awareness and understanding of the challenges of resource allocation for food and nutrition security.
"There is need for investing in child malnutrition for the future, raising awareness and understanding on the problem of malnutrition in Nigeria and resource allocation for food and nutrition security at all levels.
"It is imperative to combat Malnutrition, because it can cause death in young children, particularly those under five years of age. There should be concerted effort to fight malnutrition out in totality to ensure the attainment of desired results." he said.
He added that there should be concerted effort to fight malnutrition out in totality from Nigeria in order to ensure the attainment of desired results.
The minister also said addressing nutrition challenges is one of the ways through which Sustainable Development Goals (SDGs) can be achieved.
He said investment in nutrition will help reduce the negative trend of malnutrition for healthy life of children across Nigeria.
His words,  "Malnutrition is a large burden to a country, and tackling Malnutrition entails empowering and educating people. Improved nutrition is the key to improved national and human development and this can be done by educating the populace and creating a positive approach towards nutrition.
"We have to define the strategic objectives of improving food security at the national level, community and household levels.
"It is necessary that awareness be created among Nigerian populace especially for mothers; both lactating and non-lactating mothers to give – within the first six months of birth – breast milk which is enough for the infant as nutrition is the key to national development," he added.
He therefore charged the media to help share the vision, "to see that every citizen has food that is nutrition secured by mobilizing people at grass root level to know their rights with regards to food by involving policy makers."
"Work with the government and see how to tackle the issue of stunting, wasting and obesity to its minimal level. Journalists should come together in leadership to take actions on malnutrition for a better growth and well-nourished Nigeria in the future,"he also added.
Also speaking, a communication officer for UNICEF, Sam Kalu, said the major objective of the workshop is to sensitize the media and Nigeria at large on the current situation of child malnutrition in the conflict affected area.
According to Kalu, government at all level needs to do more with partners to invest to end cases of child malnutrition for the future.
In his presentation, A nutrition consultant Bamidele Omotola said the insurgency in the northeast is the main driver of malnutrition in that area.
He expressed concern that insurgency has caused high food insecurity, increasing spread of endemic disease, loss of livelihoods among others.
He noted that more partners support will be needed to end malnutrition in the country, as the government cannot do it alone.